Credit Cards & Debit Cards


Visa First Check Card
It works like a check, only better!
More convenient than checks.
Offers cash access around the world.
Use at ATM cash Machines, Merchants which accept VISA, and POS Machines.
Free access at Community Cash ATM Locations.
Services over 100,000+ ATMs Worldwide
Credit Cards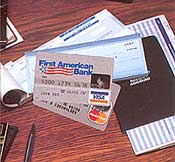 Visa Classic Visa Gold MasterCard
Worldwide Credit Acceptance
Purchases, Travel, and Special Occasions
Cash Advance Feature
No Annual Fee
Competitive Annual Percentage Rate
Lost Or Stolen DEBIT Card?
Call 1-800-523-4175 to report your debit card stolen.
Lost Or Stolen CREDIT Card?
Call 1-800-325-3678 to report your credit card stolen.
After normal business hours, please call the 800 phone numbers above instead of sending us an email. For quicker after hours service, call the 800 phone numbers above.